What is an email newsletter business? (Examples & How to start)

Bruce
Are you tired of the same-old ways to make money online, e.g., blogs, affiliate marketing, or freelancing?
Email newsletter businesses are refreshingly hot in 2021. Some newsletters like the DailySkimm have millions of followers and make millions of dollars in return. Every day people are running paid newsletters to make a living. Still, the concept of email newsletters as a business is not well understood.
In today's post, we'll explain what an email newsletter business is. You'll see examples of successful newsletters and how newsletter advertising has worked for them. And if you're thinking of starting a newsletter, try Letterhead to manage your business.
Sounds good? Let's go:
What is an email newsletter business?
It's a content-based business where you send email newsletters to subscribers. Newsletters may be free or paid. For a free newsletter, there are other ways to make money. You may promote affiliate products and earn commissions from purchases. By partnering with sponsors, you can feature their paid content or banner ads.
How is this different from email marketing? Well, companies engage in email marketing to advance their business goals. They may promote published content from their blog or offer exclusive deals to boost sales. On the other hand, people subscribe to newsletters for useful and interesting information on specific topics from politics to travel.
Both leverage the power of emails. About 99% of email users check their mail daily. They're over 246 million email users in the US and 3.9 billion total users worldwide.
What makes a newsletter successful?
Successful newsletters are like best-selling products. They identify a gap and fulfill it. Launched in 2017, The Flip Side set out to tackle the issue of a biased news media, where centrist news sources like Fox or MSNBC lean to the left or right on issues. In 5 minutes, their newsletter tells you about the views of liberals and conservatives on contentious topics.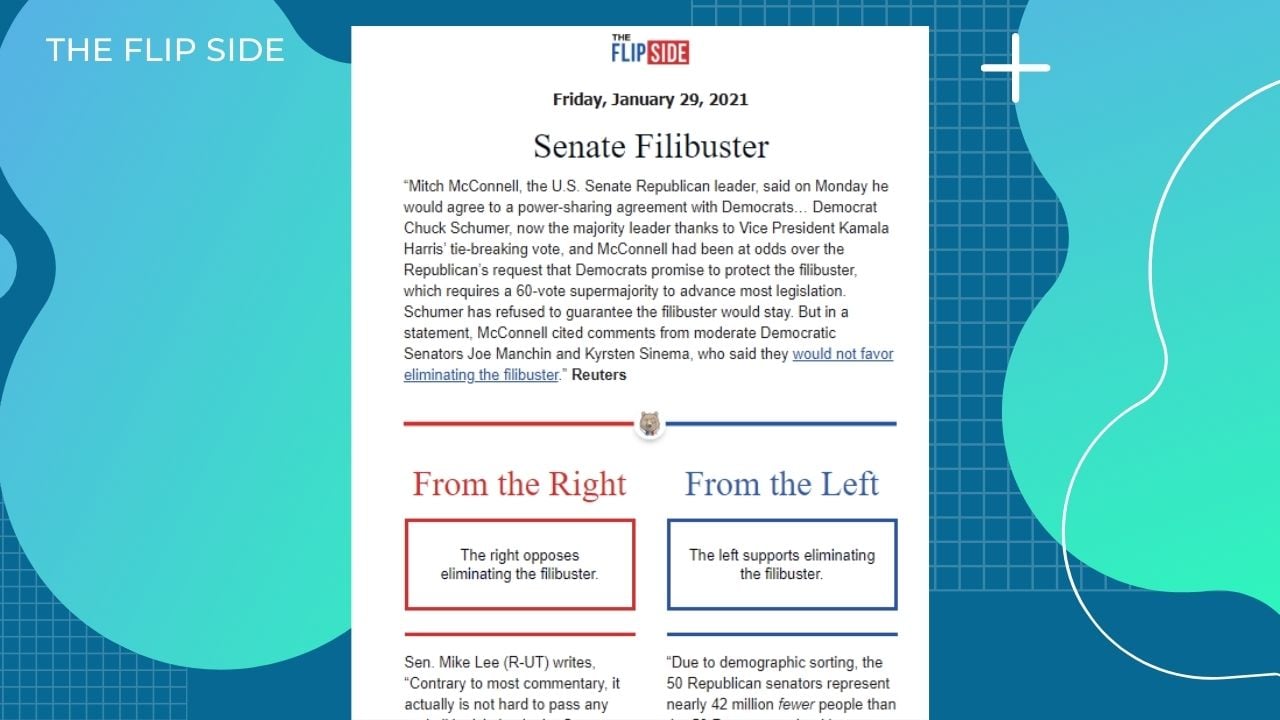 The Flip Side Newsletter
Which email newsletter formats are great for business?
Thinking of starting a newsletter business? You must figure out: What will it be about, and what job does my newsletter serve? Answer these questions by learning about these four newsletter formats:
1) Post or article style newsletters
The email resembles a blog or news article. It's typically one author writing on familiar topics. A journalist passionate about climate change may correspond with other passionate advocates. A stock trader may offer exclusive advice to paid-subscribers.
If you're a journalist considering a newsletter business, you're right on your money with this format. Many journalists have joined the newsletter brigade. Some names include Graydon Carter (Air Mail), Ann Friedman (Ann Friedman Weekly), and Emily Atkin (HEATED).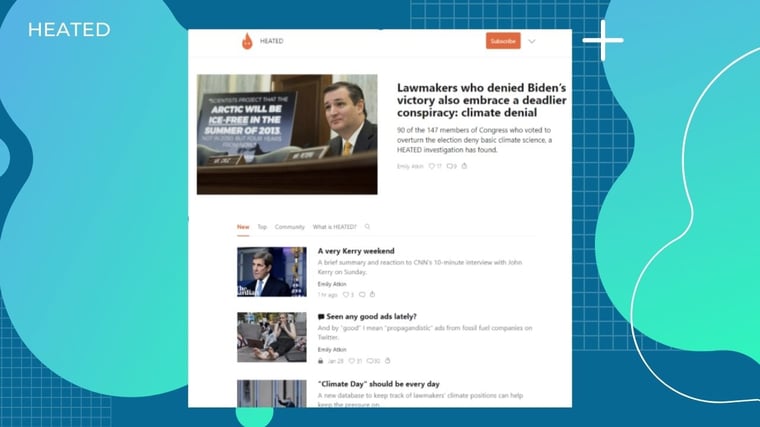 Heated world news posts by Emily Atkin
2) Curated Roundup
It's a roundup of interesting articles from several online publications or blogs. The email format includes a headline, short description, and links. Clicking the link redirects readers to the full article.
What value do they provide? With a niche-specific newsletter, you may filter the web for relevant articles based on your subscribers' needs. They get to save time and access personalized recommendations. It's possible to have people pay for your suggestions.
The Pocket Hits Newsletter is a classic type of curated newsletter format. They recommend the top articles that people have saved to read later on their app. The team also selects the most exciting news stories and pieces from around the web. Featured publications include The Guardian, The Atlantic, The New York Times, Harvard Business Review, and more. It's a free newsletter with sponsored ads.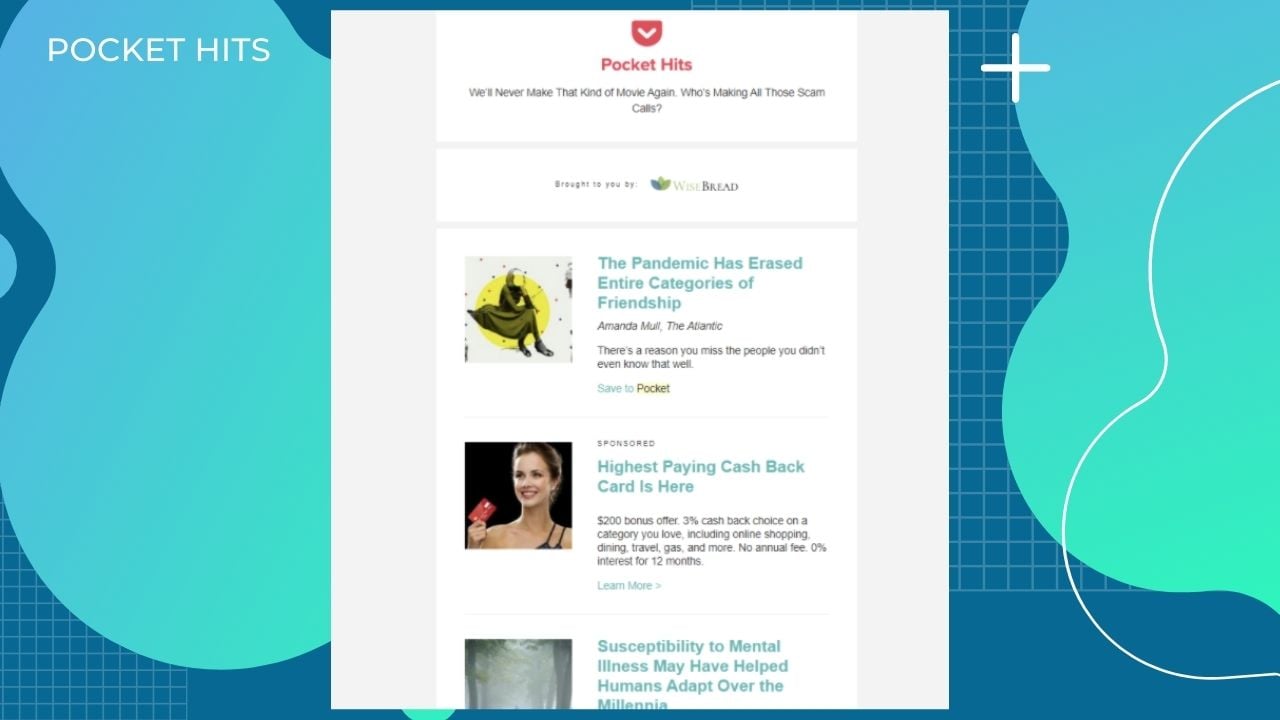 Pocket Hits curated content
3) "Deals" newsletters
The goal of the newsletter is to help subscribers save money. So, the publisher will find and publish exclusive deals. Jack Sheldon lived for cheap flight deals. In 2016, he founded the Jack's Flight Club, which has grown to over 1 million subscribers. JFC'ers - the subscribers - access the cheapest flight deals from airports around Europe. Similar newsletters that use this model include Cheapflights (Travel), Scott's Cheap Flights (Travel), and Thrifter (Shopping).
The Jack's Flight's Club Website
4) Newsletter
Briefings
It's like a mini-newspaper that briefs readers on several topics or issues, only in your inbox. This format works particularly well with media companies. The Morning Briefings by the New York Times Newspaper helps readers make sense of all the day's news and opinions. It tells readers what's happening and what they need to know, and this keeps them informed. Besides news stories, the Morning Briefings include tips on what readers can cook, listen or watch.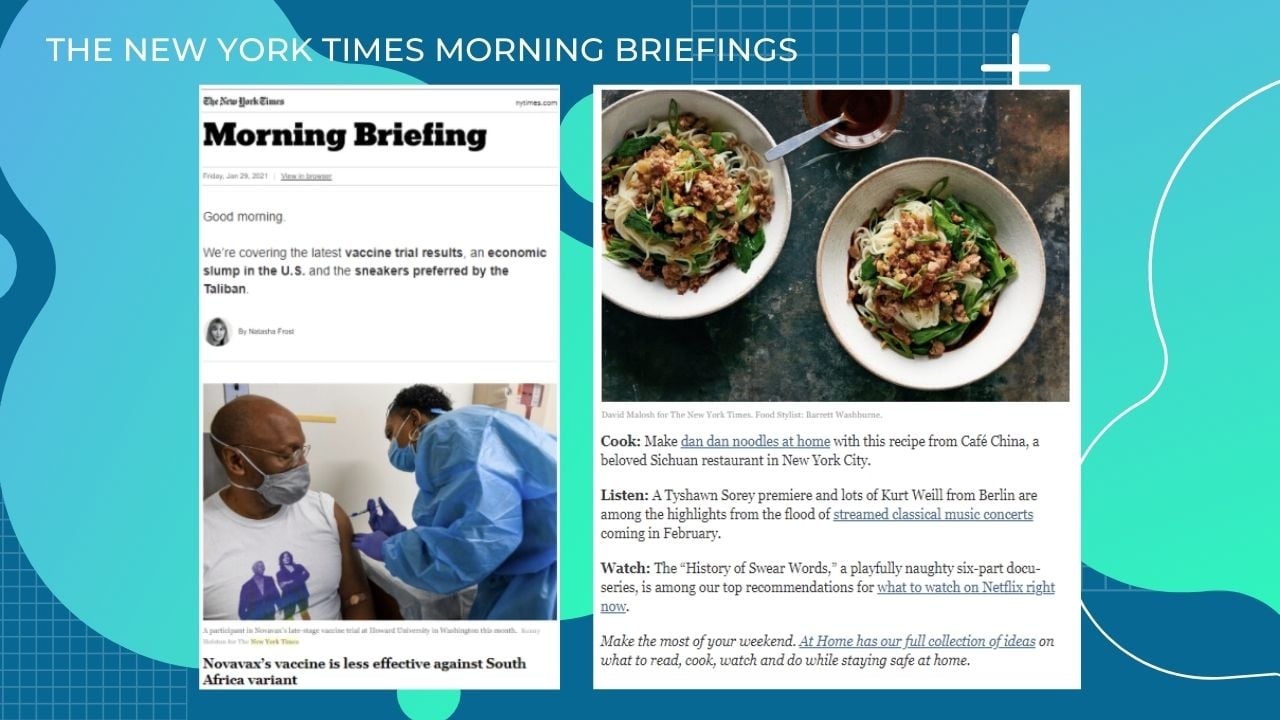 The New York Times Morning Briefings
Starting a newsletter: Where to find the idea?
Profile of a Local Newsletter (The New Tropic)
Are you interested in starting a newsletter business? The most formidable challenge is finding an excellent and unique idea. You can reflect on what you're passionate about; for instance, the love of reading news stories and sharing with your group chats, you may have the foundation of a curated newsletter. Your expertise in a particular field may be the foundation of a paid newsletter. The quest to be of more value to your local community may result in a profitable business.
The founders of The New Tropic Newsletter wanted to give curious Miami locals a means to learn about what was happening in their city. Long before a newsletter was in the works, the founders even considered opening a bar and hosting local events.
Launched in 2014 by WhereBy.Us, The New Tropic proved to be a popular concept. It translated into more local newsletters, serving Seattle, Portland, Orlando, and Pittsburgh. The technical challenges the team at WhereBy.Us experienced in running the newsletters saw them innovate various tools, which are the basis of Letterhead today.
What steps should I take to start a newsletter business?
1) Develop your content strategy
Think of the content first and how you can add value to people's lives. The newsletter needs to be something that one looks forward to reading. Don't be content with generic newsletters that the reader can ignore in their inboxes, and not feel the guilt of missing out.
It's not a hard rule that you'll be writing the newsletter yourself. You may hire out the work or partner with someone else.
As you grow your subscriber-base, you'll learn more about your audience needs, and the content may evolve. So it's not necessary to have everything figured out before you begin.
2) Think of the audience
It's also important to ask: "Who Am I targeting." Danielle Weisberg and Carly Zakin, two self-described millennial women, founded the Daily Skimm. It is a success story in the newsletter industry, having acquired over 7 million subscribers in seven years. Their primary demographic is millennial women, and they try to meet their need for unbiased news in their morning newsletter.
The Daily Skimm Newsletter
By reading their news articles, you can tell why they are a "hit" with their young readership. They "skim" the news on behalf of their audience and highlight important points, which helps their readers grasp what's happening. The language is clear, devoid of jargon, and personable as if you're conversing with a friend. You'll find statements such as "don't forget about, we skimmed, and this is so over my head."
3) Consider a website
Consider having a domain and website, so your emails may have @yourcompany address and appear more professional. The New Tropic Newsletter has a corresponding website, where users can find the subscription box and links to past posts.
The New Tropic Website
Users can also access their accounts and set up preferences. There are social media links and pages for advertisers and partners.
4) The Tech side of things - The tools
You need tools to manage your newsletter business. So, how do you find the best tool? Well, the ideal tool should allow you to:
Design the newsletter, add images or gifs, and more formatting.

Create and manage mailing lists.

Send newsletters and track analytics such as open rates.

Accept payments for paid newsletters by supporting integrations with payment systems like Stripe.

Handle the sale and management of ads.
So, which is the best tool to run an email newsletter business? Currently, running a newsletter business requires a mix of different solutions, which can be a bit confusing and hectic.
You need more features than what an email marketing software such as MailChimp can provide. For instance, WhereBy.Us needed a way to manage the advertising across its newsletters, so the team built an in-house advertising sales management system.
Due to the public interest in the tools it was using in-house, it was essential to bring these solutions to other businesses. Released in 2020, Letterhead initially focused on streamlining purchasing ads and campaign management. It was the foremost need that the existing solutions had not addressed.
Letterhead as a complete solution
Letterhead hit a nerve, and independent newsletters have started using the software for advertising sales management, including local publications such as VTDigger, Choose954, and Santa Cruz Local.
But there is a potential to offer more solutions!
This year, Letterhead will introduce new exciting features, including paid membership newsletters. We're striving to become a complete solution offering all the tools publishers need to manage their email newsletter businesses.