As most publishers and digital marketing professionals will attest, manually searching for and curating content for email newsletters is a time-consuming process. Many spend full-time hours every single day on this tedious task.
But what if you could maximize your newsletter revenue while getting back your time? Our new feature, Automatable Curations, streamlines your email builder and newsletter builder experience, making manual curation a thing of the past.
Whether you're constructing fully automated newsletters using built-in templates or crafting them from scratch manually, this versatile tool is at your disposal. Its purpose is to enhance the efficiency of your content curation process, regardless of your chosen method.
Reasons to automate your newsletters:
It eliminates tedious tasks and makes your workflow more efficient:
Eliminate Time-Consuming Tasks: Say goodbye to spending hours hunting for articles and media to curate.
Automated Content Compilation: Forget the hassle of manually compiling collections; our email template builder does it for you.
Monetize Your Newsletter: With more time, you can focus on integrating sponsored content, and affiliate links, and developing paid newsletters to increase your revenue.


Step-by-Step Guide to Automatable Curations:
Quick Look (detailed instructions below):
Build Your Curated Library: Use our browser extension, feeds, API, or in-app marketing tools to assemble your content.
Select a Template: Go to the Newsletter tab in the email editor and choose your preferred email template for automated curations.
Add Dynamic Content: Move the Curations block to your newsletter from the Dynamic Content section.
Configure Filters: Target what appears in your newsletter by setting up filters like keywords, sources, tags, and dates. This allows for a more targeted audience experience.
Preview and Publish: Click on "Preview and Test" to see your email campaigns before sending. The content loads automatically, usually one hour before the scheduled time.
How does it work?
1. Build your curated content library through our browser extension, feeds, API, or in-app tools.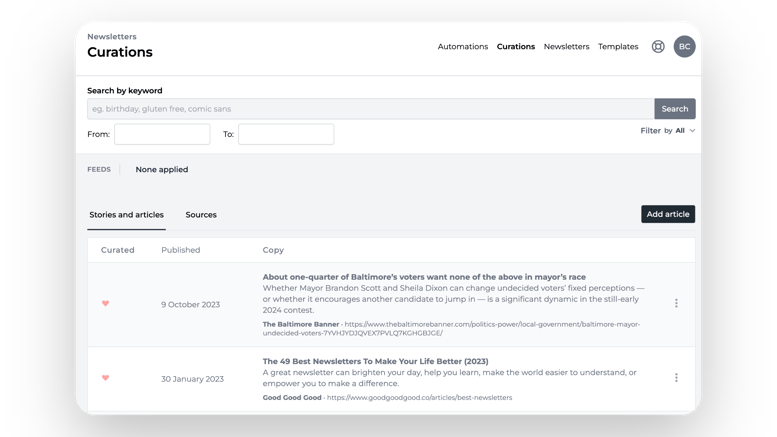 2. Go to the "Newsletter" option on the left panel and choose the template you want to use for automated curations.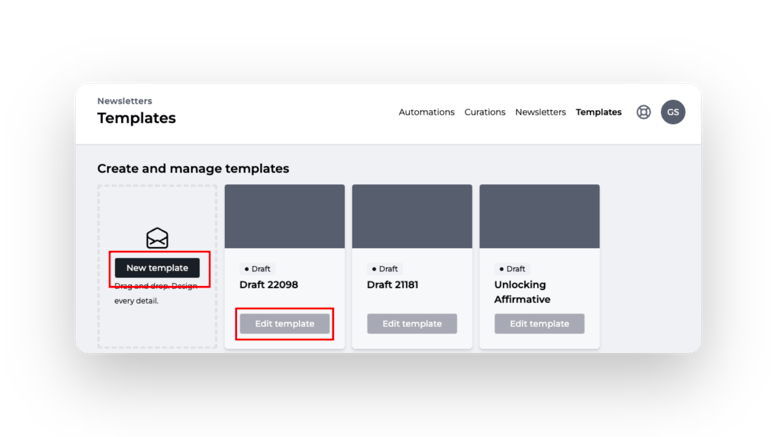 3. Once your template composer screen has loaded, click and drag the Curations block to your newsletter, which you can find in the Dynamic content section of the blocks on the right side of the composer.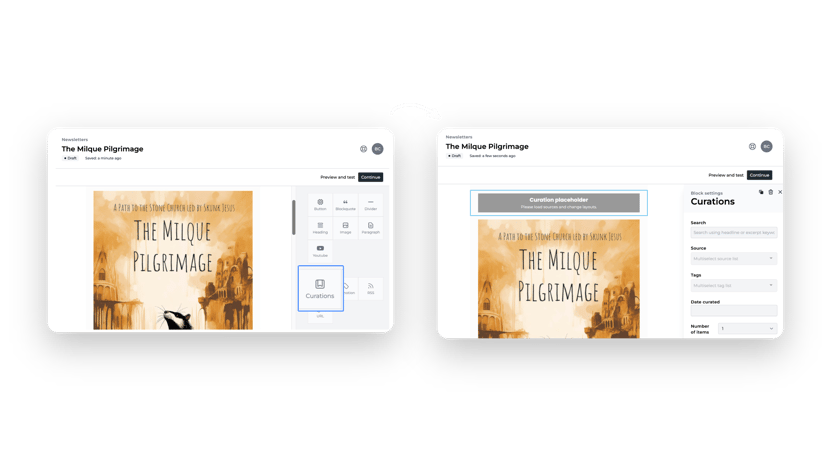 4. Configure filters like keywords, sources, tags, and dates to target what content appears.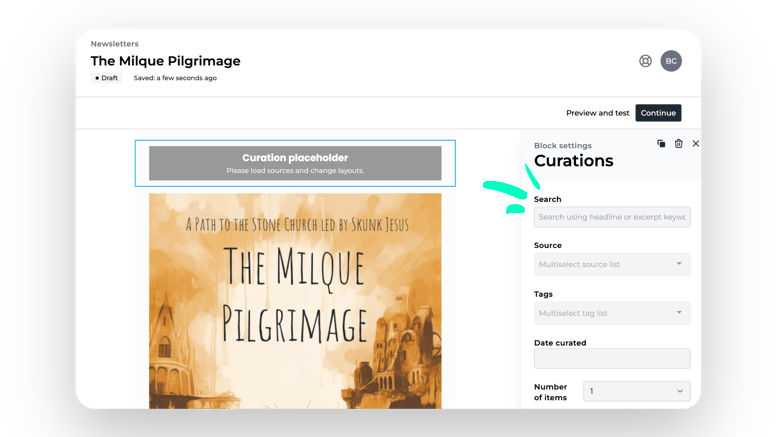 5. Click on "Preview and Test" to see the content, and then hit "Continue" to send your newsletter.
Note: Load button will not appear as the content will be loaded as per scheduled automation. Usually 1 hour before the schedule time.
You'll find that you only need to review and make minor tweaks before publishing if desired. For additional support, check out our case studies and documentation.
Unlock New Opportunities with Automatable Curations:
Whether you're running a weekly newsletter or offering a product or service, Automatable Curations offers endless possibilities:
Curate top news stories or recent social media posts.
Share the latest podcast episodes every week.
Promote new e-commerce products or services launched on your platform.
Get your time back and start automating your newsletter
Want to learn more? Our team is happy to give a complimentary demo on how Automatable Curations can transform your workflows.